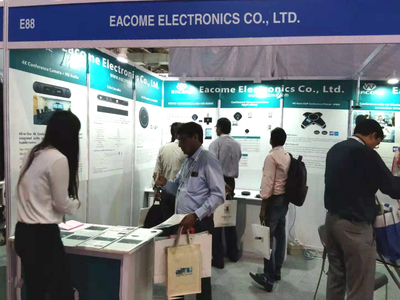 The Infocomm Mumbai Exhibition in India is a very important platform for companies to open up the Indian market. The exhibition attracted 200 exhibitors and the number of merchants reached 10,000. The exhibition was held at the Mumbai Convention and Exhibition Center and the exhibition area reached 20,000 square meters.
Exhibits cover 3D technology, audio technology, audiovisual technology, audio, video, data conferencing equipment, home theater technology, connectors and switches, lighting and studio support systems, projection lenses and accessories, wireless AV systems, installation systems, and more.
India is one of the fastest growing economies in the world, attracting global attention. It has unlimited potential in the conference and office space, and the market for intelligent conference equipment is huge. In this area, Eacome' s product solutions have been applied to all walks of life.
Eacome product solution: High-definition Ceiling Microphone Array-M220 series, long-distance transmission Ceiling Microphone/Speakerphone-S220 series are equipped with three unidirectional microphones, while maintaining perfect sound quality, forming a microphone array for long-distance pickup. These two series are a high-performance multi-functional speakerphone, suitable for larger classrooms and conference rooms, and comprehensively improve the efficiency of teaching content and quality.
In this exhibition, Eacome' s products breathe new life into the exhibition, the Indian market has achieved great results. At the same time, through the improvement of efficiency, we can make Eacome stand out from the fierce competition.